If you have a big business or an agency does not matter if it's small or big or also (last one) if you are a freelancer and for those who are willing to, IN today's article I will help you understand how quickly you can grow your business, agency with the help of FlyWheel Growth Suite.
If you don't know what is flywheel growth suite is, then you don't have to worry anymore. I will explain it. In today's post, I am going to give you an unbiased review of "Flywheel Growth Suite ".
So without further ado, let's jump right into growth Suite Review lists you're interested in.
What is FlyWheel Growth Suite?
Before I SPEAK what is flywheel product growth suite is and explain it, let me share with you a quick line on what is flywheel.
'Flywheel is a managed WordPress hosting provider for freelancers, developers, agencies. This platform is entirely focusing to help those who run client businesses, what I mean is if you have customers or a client that needs help in creating a site ( for an easy example, a digital marketing agency).
Flywheel is for you, it's because they are not just a hosting provider, they are totally different and made for only such people as explained above. They provide features which every freelancer, agency needs just like:
Client and site management
Branded client reports
Billing
White Labelling
Collaborate with your clients
Managed WordPress hosting
Keep reading, you cannot say no to this product, it can help to save your time. I will explain…
Now you finally got to know what is flywheel and let's move forward to understand our detailed review on "FlyWheel Growth Suite Review".
Flywheel one of the giant WordPress hosting provider platform has recently launched its newest product called "Growth Suite", which is all in one perfectly designed platform to grow your business faster in just one place from hosting to managing everything.
If you maintain an office or business and have customers and clients and looking for a stage from where you can oversee everything in one spot then a Growth suite BY flywheel is made for you.
You can do everything you have thought it from that tool. Excited right? Same here.
The best thing about them is they reduce our business to be dependent on third-party software such as billing, client management, you can do so everything at the same time on the same platform. Which is just great.
Why You Must Need Growth Suite Tool to Grow Business?
As explained above, it helps you in reducing dependence on third-party software, now let's dig deep into our section of "Flywheel growth suite review"
If you are a freelancer, or developer, or let's say you own a business where you handle clients designing, website development,
You know how hard is it to handle the process of controlling clients from billing to chats to support there can be a lot of distractions and pain points to overcome such as handling works, UI design, scheduling, and more.
Agencies Huge Problems that Growth Suite can Solve In min's
Managing multiple clients at the same time is a very hard and tricky process, I have collected some of the problems agencies, freelances face with handling client business and how growth suite can just swipe it.
Revenue tracking can be a headache
Billing and invoicing is a lot to manage
Putting your clients first is hard when you're bogged down with inconsistent workflows
You want to grow, but being data-informed is not as easy as it may sound!
Different apps and software can become a lot to manage
Fully integrated with Stripe
Automated communication
Resell managed WordPress hosting
This awesome tool helps you solve your problems by minimizing all the problems under one roof. This Tool is built specifically for growing agencies and freelancers and brings processes together under one room.
FlyWheel Growth Suite Best Features & Benefits
Here are some of the best eye-catching features, you can get in Growth Suite Product!
Automatically bill your clients on a recurring basis
Effortlessly bill your clients for projects and one-time services
Bill your clients in the currency of their choice
Prove your value to clients with recurring agency-branded reports
Create predictable revenue based on intuitive insights
Manage all your sites from a single place
Establish a professional (and customized) client experience
Set up a custom library with your unique services to reuse
Get speed, security, and support with our trusted managed WordPress hosting platform
Site and Content Management
Automated Notifications and Reports
Personalized Dashboard
Now you got to know what is the flywheel and growth suite, and what problems the agency faces when handling multiple and how Growth suite can swipe those in just mins
UnBaised Growth Suite Review: Learn How You Can Grow Your Agency & Business
In this section, I am going to share with you a review on growth suite how it can really help your business to grow.
Let's dive deep into today "FlyWheel Growth Suite Review"
Flywheel Growth suite offers a Personalized dashboard to grow your business effectively with easy to understand dashboard.
This is the best feature of the growth suite because in one single screen you view revenue, monthly, quick actions to monthly recurring revenue and payments or clients.
With the help custom dashboard panel, you can customize the screen yourself and play with it the way you love it. Growing a business effectively without an understanding of its layout and dashboard can be tensed and takes time to learn.
But in the case of the Growth suite, it's very beginner-friendly and comes with handy features.
Another great point, you will have a dedicated manager from Flywheel, who will help to create a personalized dashboard that shows all the information you need on-screen in real-time.
2. Sites and Client Management
With the help of the growth suite, you can easily manage clients in control of their site management from pages, blog posts, images, and other content.
If by mistake your client deleted some pages, then with the help of this awesome feature you can restore the sites that have been accidentally been deleted by your or your client, it can be restored at the same time.
You never have to worry about what needs to be updated and what's not it really helps in saving a great time.
I know it's harder to manage all client's websites when you are in a growing phase. This tool can help to scale your agency with tools like client portal, agency-branded client reports integrated with Google Analytics, email communication, and CRM.
2. Easy Billing And Invoicing For Your Clients
Handling more than two clients at the same time or countless, I know it's harder when you accept client projects and worry about payment to offer on schedules and invoicing options.
It does not matter if you charge your clients for one time or follow a subscription-based business module, then this tool growth suite can help you get paid one time. You can easily generate an invoice, apply a discount.
I know it's somehow easy to manage billings with sheets by day by day with the time it grows and the billing process might work at first but with the time you are going to be frustrated and need the help of some third-party billing software.
Here are some screenshots you will love to see:
Now you never have to worry about payments delay, invoicing. This is why this tool is very and very helpful to agencies and business owners and really helps in saving time and saves money.
3. Share a List Of Services you offer at a time
If your business offers lots of services such as website designing, content writing, SEO, Digital services it can buy anything then this feature will really come in handy.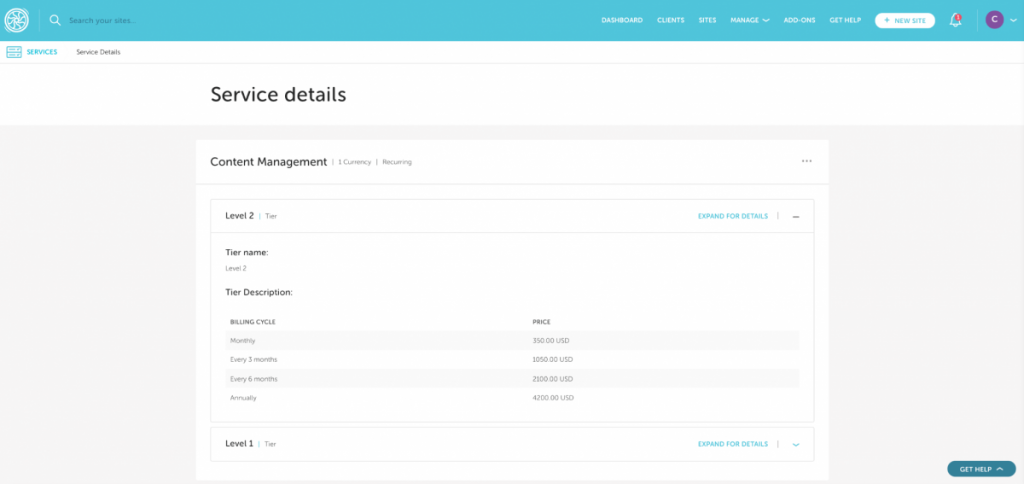 You can list your services at a time and let them know what services your agency proves on one single page.
4. Automated Notifications And Reports
Another great feature is their automated notifications and reports for everything such as billings, every time a new client is added, services, website traffic, page speed, code breaks, and time to time errors in the client projects website and codes.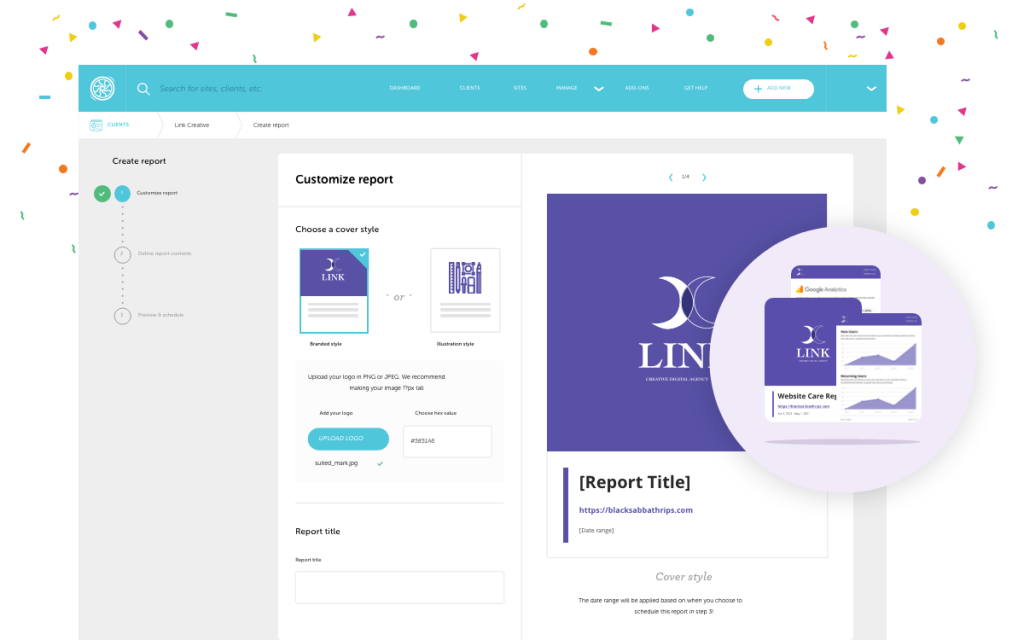 This feature is really important for any type of business and thanks to Growth Suite, they also provide in-depth analysis of what content is working the best and what now.
The dashboard panel you will provide to your clients will have your own brand name to everything so they can never feel they are using other dev tools. Everything will be under your name and a really great feature if you have some amount of clients.
5. Fully Integrated with Stripe
Flywheel also offers to integrate stripe with your business so you can Securely bill your clients with no tension.
5. Resell Managed WordPress Hosting
If your client needs some kind of hosting then "yes" you can offer your own web hosting plans by reselling Flywheel managed WordPress hosting which is another great feature.
Earn monthly recurring revenue by including Flywheel's services in your monthly maintenance packages. (it's great).
What Others Are Speaking About Flywheel Growth Suite?
I have collected some of the real reviews of what others are speaking about flywheel from real customers.
"Everything has been seamless and all of the features are incredibly helpful. Previously, I had no clue what my monthly income was, now I'm tracking my overall ROI and making data-informed decisions."
–Timothy Farzalo, Web Designer / Online Strategy / Consultations Thunderlight Media
"Growth Suite is the evolution of billing for freelancers and agencies that we've been missing. It's hands-down the best way to bill your clients."
If you want to grow your agency faster in the same time-saving time then Growth Suite is an all-in-one solution for growing agencies and freelancers.
This amazing tool has everything you would need to grow an agency, business, client business, a worth tool to buy.
So what are your thoughts about the detailed Flywheel Growth Suite review?
Did you like my today Flywheel Growth Suite review
Also,
Have you used Growth Suite I highly please consider leaving a review below — good or bad — doesn't really matter as long it's helpful to our readers. Thanks for your great support.
To read this article and more,
subscribe now – "Its Free"
For free, get our unbiased journalism including the latest in marketing, technology, business, and more. Read our stories before anyone else.
📝 Reader, sign up to get full access to a news story a day. __ Subscribe __ by Email __